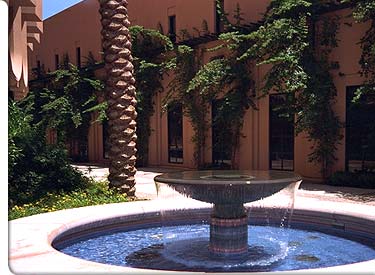 Contact: +1 480 965 7451 (Int'l Office)
Arizona State University (ASU)
Arizona State University, University Drive and Mill Avenue, Tempe AZ 85287, U.S.A., United States
4.15

/

5

based on

48

reviews.
Description:
Arizona State University, the third largest public university in the United States, is the model metropolitan research university for the next century. This rapidly growing, multicampus public research university offers programs from the baccalaureate through the doctorate for approximately 49,700 full-time and part-time students through ASU Main in Tempe; ASU West in northwest Phoenix; a major educational center in downtown Phoenix; ASU East, located at the Williams Campus (formerly Williams Air Force Base) in southwest Mesa; and other instructional, research, and public service sites throughout Maricopa County.
| | | | |
| --- | --- | --- | --- |
| | | Programmes | Accreditations |
86% of students recommend
48 reviews
"

Sun, palm trees, top faculty in IT Management and other fields; there's no hesitation

"

Read Review

benblatger, France
Arizona State University review by
Benoit
Review by Benoit,
ESC Toulouse
, Toulouse, France
Management Information Systems, Independent
HOUSING
Personal assessment
Cost

KEY:

Couldn't have asked for more.

Pretty good.

Could've been better, but didn't lessen the overall experience.

Disappointing.

Facilities

Location

Cleanliness

Space
Type of housing: Apartment/House
Arranged by: Independently - I had no other choice
If returning, I would choose: Apartment/House
Why? House because there's more space and a backyard: excellent set up to have BBQs.
Personal comments:
Big house with backyard, 1.5 miles from university, and cool roommates. Hard to find a better deal.
This review is the opinion of an iAgora member, and not of iAgora itself
STUDENT LIFE
Personal social experience
Activities

KEY:

Amazing! Hardly had time to study.

Plenty to do when I had the time.

So-so.

Did not get involved.

Nightlife

Travel

Overall
Describe host city: Student life dominates the city
Travel: Takes place mostly outside the university/student environment
Activities, Nightlife: Takes place both within and outside of the university/student environment
Personal comments:
The Cajunhouse (bar/concert) in Scottsdale, The Web Theatre (concert) in Phoenix, The Rythm Room (blues) in Phoenix, Boston's in Tempe, bars around America West Arena in Phoenix.
This review is the opinion of an iAgora member, and not of iAgora itself
My academic experiences
Quality of courses

KEY:

Fantastic.

Pretty good.

Could've been a bit better.

Disappointing.

Variety of courses

Availability/access to resources

Interaction with teachers

Interaction with other international students

Interaction with local students
My opinion of the university assessment
Exams at end of course

KEY:

Liked it.

It was alright.

A bit annoying.

Didn't like it.

Exams throughout the course

Essays and/or projects at the end of course.

Essays and/or projects throughout the course

Overall
This review is the opinion of an iAgora member, and not of iAgora itself
Language difficulties
Social

KEY:

No problems.

I coped pretty well.

Sometimes it was difficult.

It was a constant struggle.

Educational

Administrative / Institutional

Overall
Language of instruction: English
Was learning English a key decision factor?
No, it wasn't.
How much did you improve your English?
My level before: At ease in most situations
My level after: No problems in any areas (including slang)
Personal comments:
I had already spent one year in the US when I started school
This review is the opinion of an iAgora member, and not of iAgora itself
EXPENSES
The accessibility of student needs
Second-hand text books

KEY:

Very easy.

Minimal effort.

Accessible but required effort.

Almost impossible.

Second-hand household items

Computers / Internet

Administrative

Money from home
Main source of funding:
Family
Other sources of funding:
Personal savings
salary from previous year
Work opportunities:
I didn't want/need to work
Personal spending habits:

Travel, Nightlife, Overall, Housing: was more expensive than at home.
Food, Telephone: was the same price as at home.
Personal comments:
none
This review is the opinion of an iAgora member, and not of iAgora itself
OVERALL
Important to choosing this university...
Academic reasons

KEY:

Very Important.

Important.

Not really important.

Unimportant.

Culture

Costs

Activities

Campus life

Party / people

Weather / Location
I wish I had known...
No, only good surprises
In my opinion:
Everybody loved it, you will too!
During my experience abroad, I ...
Became familiar with another culture

KEY:

Happened all the time.

Happened quite a lot.

Happened a bit.

Didn't happen.

Traveled

Improved language skills

Met people from other countries

Became more independent

Partied a lot

Experienced a change in life

Advanced my studies/career
Personal recommendation:
Enjoy the swimming pool
FINAL COMMENTS
Sun, palm trees, top faculty in IT Management and other fields; there's no hesitation
This review is the opinion of an iAgora member, and not of iAgora itself